Add character to your bathroom
Turn your bathroom into your personal feel-good space, using choice accessories and your favourite items. Personal decorative elements create a unique ambience that is tailored to your taste.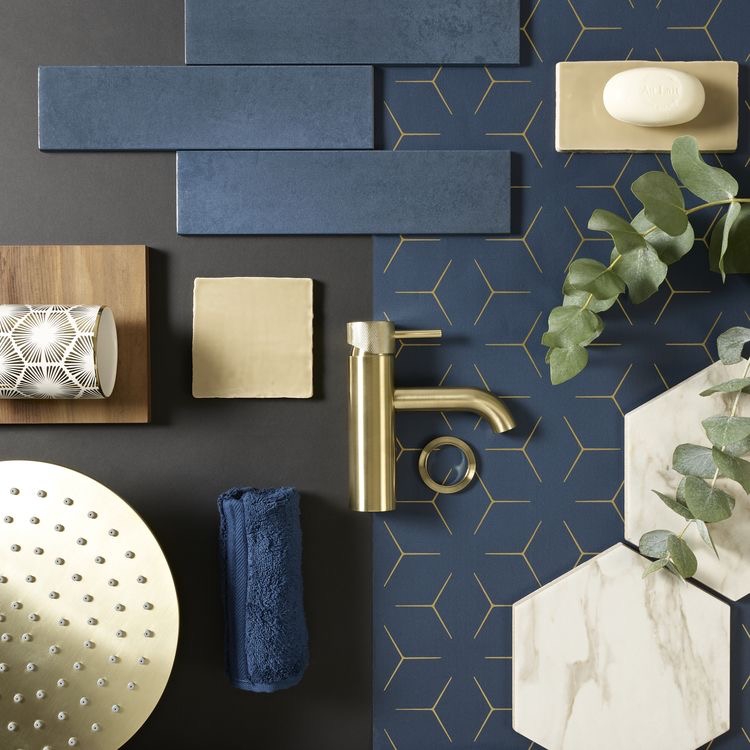 Family run business with over a decade of experience in our industry
Tubs 'N' Taps Limited is a family-run bathroom & tile showroom based in Golborne, founded in April 2019 
You've Got Questions We've Got Answers
We're constantly updating our bathroom range, for more information please get in touch.
WHY CHOOSE TUBS N TAPS LTD
Tubs N Taps Ltd bathroom and tile showroom based in Golborne selling all the latest brands and bathroom products from around the world at an affordable price. We offer a free 4D design and measure service to all our customers.
When it comes to services we are a bathroom showroom providing thousands of products & designs to suit any shape or size of bathroom at the best price.
What Our Customers Are Saying About Us
andrea taziker
February 21, 2023
Fabulous place. Wonderful people who know everything about bathrooms and can interpret non- bathroom people's needs, like 'I want a comphy toilet'!! Brilliant prices and so helpful! I can wholeheartedly recommend them!!
Louise Taylor
February 4, 2023
It's been an absolute delight to deal with tubs & taps, Sam, Coral & Kay are so very helpful and we are delighted with both bathroom suites – I'd highly recommend x
julie oakes
February 4, 2023
Highly recommend Tubs n' Taps . Great service from design to finish , with fitting from Patrick at Psdbathrooms.
Chris Jones
January 9, 2023
Met Sam and Coral at a business event. Forward thinking business owners with a focus on their clients.
Kiera Waldie
January 9, 2023
Sam and Coral, the owners of Tubs & Taps, are lovely, reliable and trustworthy people. We have worked with them at many events and couldn't recommend them any more. Their bathrooms are also unbelievable quality with a luxury feel.
emma mcdermott
December 6, 2022
Great company to deal with ⭐️. Sam and Coral were both really helpful and knowledgeable in planning our bathrooms, all other team members we dealt with were equally helpful. It was really easy to get an appointment. The 1:1 appointment where we took our measurements enabled Sam to make a design we could view straight away. The initial design gave us lots of ideas we hadn't thought of. There was no pressure to commit and we were able to take the design away before we committed. Changes to the design were made with no issues on a subsequent visit. Last minute changes to the colour scheme were also accommodated with no problems. The quality of the bathroom items supplied is great and the fitter they recommended (Tom) did an amazing job. Overall we are absolutely thrilled with our new bathrooms and would 100% recommend this company if you are considering having a new bathroom.
Tom Anderson
October 17, 2022
Great service and design. Very thorough and helpful in the process. Top quality materials. 👌
Elise Edwards
September 27, 2022
Great experiance at Tubs n Taps from start to finish. They were very helpful with designing and picking the products for my new bathroom. We had delays with the start date for our own fitter and thought we would have to store the bathroom oursleves but, Coral and the team were really accomidating and never put us under any pressure to take delivery before we were ready. The finished result looks amazing and you can really see the quality of the products. 10/10 for for Tubs N Taps
Thank you Tubs &Taps for making our dream bathroom become a reality! After 5 years of shutting the door we are finally proud to have a fantastic en-suite bathroom. From taking the dimensions of the room to Sam for a design – through to helping us find a plumbing company to install…the whole service was great. They even helped us change and match our feature wall tiles to be a better combination with the main tiles. A fantastic service from start to finish from Tubs and Taps…a company we will highly recommend to friends and family.
mal oneill
September 10, 2022
Tubs n' Taps after many days of research on the internet and wondering who to trust with my new bathroom I would just like to say what a fantastic service you provided us from beginning to end even your small gift you sent us was a lovely gesture. From your business being based in Golborne Wigan to Being able to supply & fit our brand new bathroom in Liverpool was amazing. The quality of your equipment that was installed has transformed our bathroom and now feels great when using it especially when using the mirror with built in Bluetooth system highly recommended by the way. I would also like to say a massive thanks to Craig and his team who fitted our bathroom within a week after a full rip out, there professionalism and attitude was first class, at the end of each day they left the house spotless. I would definitely recommend Tubs n' Taps to whoever reads this review. Thanks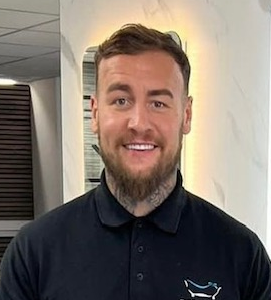 Sam
Sam is the co founder & owner of Tubs n Taps ltd. Before starting Tubs n Taps Sam spent 12 years in the bathroom supply chain, supplying bathroom showrooms in the north of the UK. During this time he travelled to numerous countries & factories learning about all the different products the bathroom industry has to offer. In 2019 the goal of opening his own shop was realised and Tubs n Taps came to life. Using his experience of the 1000s of showrooms he had visited it was time to make something of his own. Sam's responsibilities are driving us forward so we can become better each day & give each customer the best experience possible. He is also the lead bathroom designer so if you want something special he is your guy. He loves spending time with family & enjoys being on the golf course when possible. A passion of Sam's outside of work is mental wellbeing, a future dream of his is to create a podcast so people can learn from eachother to create a happier place. Sam's quote of choice for anyone reading this is.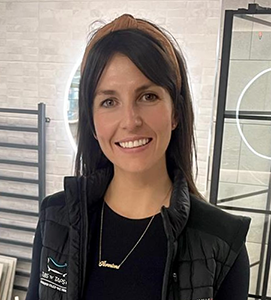 Coral
Coral is the co-founder & owner of Tubs n Taps ltd. Before starting her career in the bathroom industry coral was a financial director in the car industry. After having an urge to own her own business one day that dream was brought to fruition in June 2019. The doors opened and corals talent with numbers and people skills really got Tubs n Taps off the ground. Corals passion for the business and work ethic is un matched and is a corner stone of where we are today. From not knowing the basics of bathrooms to where she is today is a lesson that with time & effort you can do anything. You will find coral in the showroom most days & she responsible for all of the finances for Tubs n Taps, she also brings that womens touch when it comes to designs which Is always welcome. In her spare time she loves spending time with her daughter hermione who is her pride & joy and her true motivation. She also has a passion for food & cooking and spending time with her family & friends. When its time for a holiday she goes out to America to visit her sister. Corals quote she wanted to pass on to anyone reading this was.
" don't underestimate what you can achieve, believe in yourself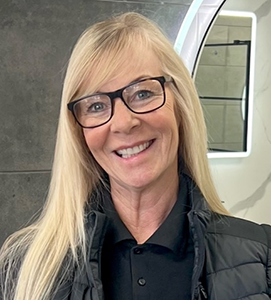 Kay
Kay joined us in April 2021 after working in the social care industry working with people with disabilitys. after spending 30 years in this industry she wanted a change and being sams mum she was called up on to join the family business. To say she has been a great addition would be a complete understatement. Kay looks after most things behind the scenes and is responsible for all orders & operations within tubs n taps. Kay being a member of the team really took us to the next level in terms of being able to deal with a bigger work load. We often get asked who runs our social media, the answer is kay. One of her passions is taking photos out in nature walking her dog rosie & it turns out shes just as good at taking photos of bathrooms. Its all about the angles she says. Kays passions out of work are walking spending time with family & going to the caravan where she enjoys getting up early and seeing the sunrise. We asked kay the same question about her favourite quote that she could pass on to anyone who reads this and her answer was"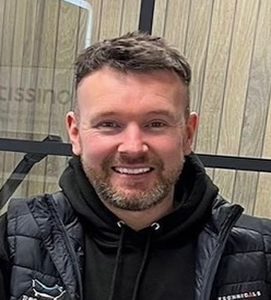 Ste
ste ( not steve ) joined our team as a bathroom designer in February 2023. He joined us with 20 years experience in the bathroom industry working in other showrooms & with previous experience of owning his own showroom. Ste is a family man and loves spending time with his wife & children. He also loves to get on the golf course when he can. We love having ste as a member of our team as he brings a great enthusiasm for his role and also has a warm character with our team and our customers. He will be your first point of contact when we come out and measure your bathroom and give you some great starting points when you start your journey into getting a new bathroom. If your lucky enough to have ste as your bathroom designer be prepared to eat a lot of biscuits & drinks lots of tea & coffee. Whats not to love about that? We asked all our staff to give us there favourite quote that they live by and would like to send out to anyone reading this. This was one from the golf course.
" make your next shot your best shot"
Get In Touch With Us
Contact us using one of the following methods: